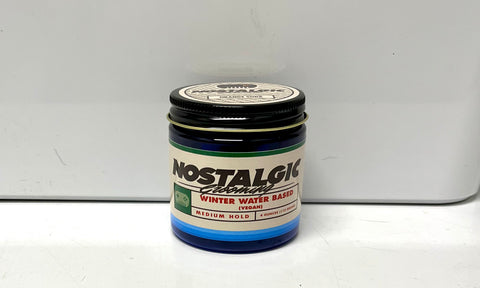 Winter Water Based Vegan Medium Pomade (Classic)
Our annual Commemorative (aka Ugly Sweater Holiday) Pomade is now known as our Winter Water Based. This formula is a vegan, medium hold, water based pomade. Inspired by our Cream, Original, and Super Water Based pomades to combine our favorite properties from each. This was originally launched in 2017 and uses the original formula with no changes. 

Orange Soda ... fizzy orange, lemon, and grapefruit on a base of vanilla with a touch of sugar.
Ingredients: Distilled Water, Castor Seed Oil, Emulsifying Wax, Mango Butter, Soy Wax, Candelilla Wax, Cupuacu Butter, Apricot Kernel Oil, Jojoba Oil, PEG 40 Hydrogenated Castor Oil, Hydrogenated Castor Oil, Fragrance, Optiphen Plus, Vitamin E.
Our jars have a "Use within 12 months" logo printed below the ingredients section. We honor our 12 month commitment to the original purchaser from the date of purchase.